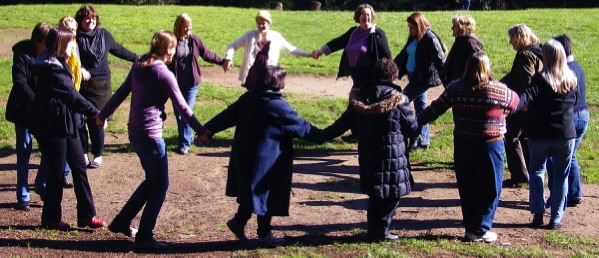 Adult Education encourages our spiritual, personal and congregational journey. Whether during informal gatherings at the church, in our homes, or in local coffee shops, taking a class is a wonderful opportunity to broaden our knowledge of the Bible and other Christian issues.
Below is a list of the small groups of our congregation, and all people are welcome to participate in any of these groups. Additionally, we frequently offer topical studies and discussions. Please check our calendar for more information about our most current offerings!
Monday Study Group
This dedicated group meets at the church on Monday afternoons at 1:00 p.m., when we gather to pray, study God's Word, share thoughts and feelings, laugh, and just enjoy our time together. Every time we open the Bible there is something new to learn and apply to our daily living.
Please join us. This is a personal invitation to be part of our Monday Gathering. Please contact us if you would like to join the discussion.
The Ruth Covenant Group
We meet at Bethany on the 2nd Monday of each month at 7:00 p.m. with fellowship and tea until 7:30 p.m., and then study until 9:00 p.m. There is always time for a check-in, hot tea, delicious treats, and prayer. All women are invited to join us.
Seasonal Sudies
We occasionally will meet for specific topical study series, particularly in the seasons of Advent and Lent. Please check our News or Calendar pages for updated information.
Please contact us for more information about any of our Adult Education programs.
*Diverse opinions are welcomed and encouraged at Bethany. Any opinion expressed in any of our studies or groups may not necessarily represent Bethany Presbyterian Church or the larger Presbyterian Church USA.