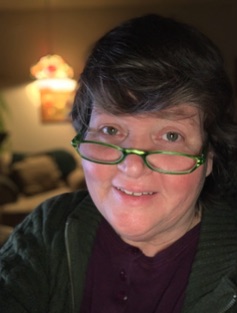 As the fourth of five children born to charter members Bill and Skip Quickert, Kathy was literally born into the life of Bethany two years after it's founding. She continued the family tradition, raising her son and daughter with the loving support of the Bethany extended family. She feels called to seek out and to creatively express the beauty in everyday things, with a particular fondness for rainbows, flowers, liturgical art, and eyeballs.
Our Talented and Loving Staff
Rev. Kathryn Pyke graduated from Arizona State University, has a Master of Divinity from San Francisco Theological Seminary, and is a trained Spiritual Director.
Kathryn has spent most of her life living in Arizona, moving to California with her husband, Reverend Richard Pyke (retired), when she accepted the call to be our Pastor and began her ministry at Bethany in October 2011. She loves the Bay Area for its cultural diversity, beauty, and especially its weather. She enjoys running, reading, watching movies, traveling, and spending time with family, friends, and dog Maddie. She feels blessed to serve the Bethany community, a More Light Congregation, committed to welcoming all people.
Richard brings many years of experience as a PCUSA pastor. With a rich background in both musical performance and civil rights, he feels that it is very important in this life to be productive, and to use all of the gifts, talents, and skills that God graciously gives to each of us. As Parish Associate, Richard shares his gifts for teaching, leadership, visiting, and - on occasion - preaching.
Roberta has been our church secretary - a title she proudly embraces - since 2001. Arriving at Bethany in 1986, she and her husband Ken were immediately welcomed into the choir, and raised their two daughters at Bethany. Her position gives her the opportunity to serve the church and provides ample time for some of her hobbies: knitting, watching movies with her family, and volunteering at the Peninsula Humane Society.