Bethany Thanksgiving Talent Revue - November 13, 2017
The annual Bethany Thanksgiving Dinner and Talent Revue is always a highlight of the autumn season.  On the Saturday before Thanksgiving, we share a turkey dinner with all the fixings and amazing sides, take up a collection for the local homeless shelter, and then kick back with a talent show.  With all of the home-grown talent in the congregation there is always a bounty of performers!
Below are some photos and videos of our 2017 - it was a smash hit, as always!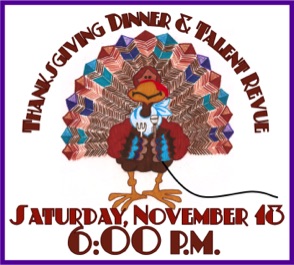 Frank Goodwin sings
"Everybody Wants to Go to Heaven"
Pam and Fred perform "I'll Fly Away"
The Bethany Quartet sings
"Sweet Hour of Prayer"
Lyn Hughes and Fred Matthews sing the old hymn, "Victory in Jesus"
Linden "Linty" Cady and Julia Leeman lead "the Vegetarians" in a festive holiday dance medley to bring down the house in our finale.