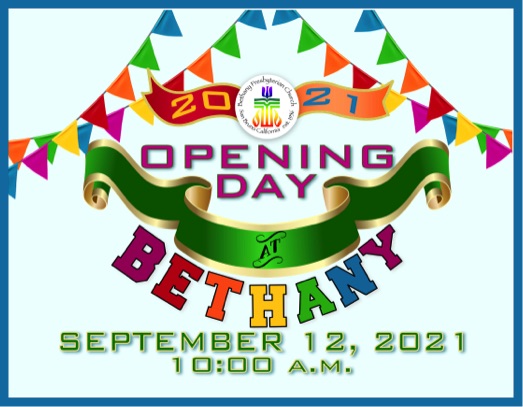 We plan to make our September 12 worship celebration very special, as fitting this wonderful occasion. In fact, we are SO excited about this day, we're creating t-shirts! Would you like one?
Th shirts are $17.50 each, and come in sizes small through 3XL. Please let us know if you need another size (for example, for a child) and we will try to accomodate your need! And please don't let cost stop you from ordering - we will make sure that everyone who wants a t-shirt can have one!
Please contact us to place your t-shirt order. Ordering will close on August 15, so don't put this off or you will miss out!
After eighteen LONG months of closing for the COVID-19 pandemic, Bethany is finally re-opening for in-person, indoor worship! Hallelujah! We will be able to greet each other in person beginning with 10:00 a.m. Sunday Worship, on September 12.
The Session is finalizing our "rules of engagement" to be sure that we continue to be safe as we meet. Watch this space, as well as Sunday announcements and our Facebook page, for information as it becomes available. Please plan to be with us!